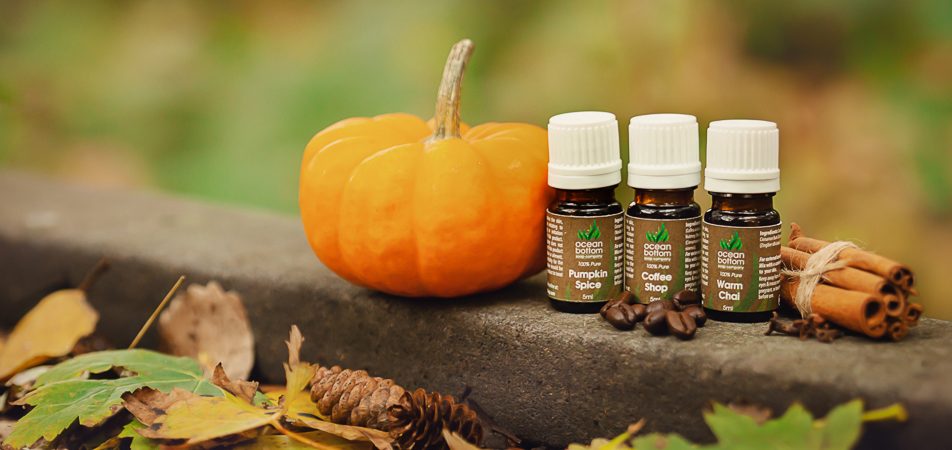 Fall Essential Oil Blends capture everything we love about Fall.
Cool, crisp air, bright sunshine and leaves starting to shift to vivid hues. It can only mean Fall has arrived! The kids are adjusting to the new school routine, days are growing shorter and pumpkin spice is everywhere. Warm, fuzzy socks, cozy scarves and comfy sweaters make the outfit of the day, accompanied by a steaming beverage in an oversized mug. It's a favourite time of the year for many.
In celebrating Fall's return, we have three new Essential Oil Blends that capture the essence of the season.
Warm Chai
This blend will add warmth and coziness to any place it's diffused. With notes of Clove, Cinnamon and Cardamom this blend will leave you feeling comfortable and relaxed.
Coffee Shop
You asked for it and we have done it! Stimulate your senses with this blend of Coffee, Vanilla, and Cinnamon essential oils. Amazing for anytime of the day, you can experience the warm aromas of a cafe right in your own home.
Pumpkin Spice
Achieve that fall-inspired environment with the Pumpkin Spice blend. While the leaves are changing colours out your window and there is a crispness to the air, you can relax inside enjoying the aromas of Orange, Cinnamon, and Vanilla essential oils.
Spice up your room during a romantic dinner or set an inviting mood during a dinner party by popping a few drops into your diffuser.
And men, we have you covered! We can make you a custom beard oil with these spicy blends. The scents are also available in soaps to layer into your daily routine.
Don't wait until the last leaf falls before picking up your favourite. These will sell out quickly! Available in-store and on-line.
Click here to get your Fall Essential Oils