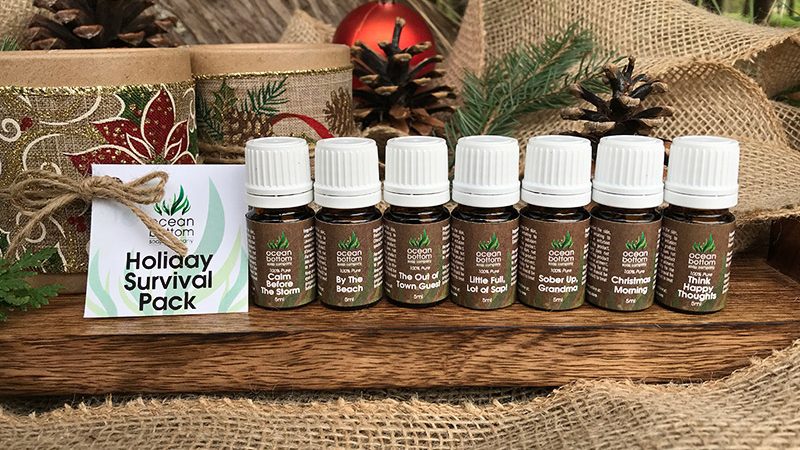 The Holiday Survival Pack has everything you need to get through the season
You wish you would have gone to Cuba for the Holidays instead of sitting through one more of cousin Eddie's stories.
Someone hasn't been keeping tabs on how many eggnogs Grandma has had.
The kids are screaming, the turkey is dryer than a sand box in the middle of a heat wave, and the smoke alarm is going off.
We've all got some version of a Christmas horror story. At Ocean Bottom Soap Company, we've created a bundle of 7 custom essential oil blends to help get you through whatever the holidays throw at you.
Scents include:
Little Full, Lot of Sap: When you discover your tree doesn't fit, this blend is very reminiscent of a fresh sappy tree.
Sober up, Grandma: Awaken and refresh your guests, or Grandma needs to be revived after too many glasses of eggnog.
Think Happy Thoughts: When it's all hitting the fan, this blend will be sure to melt away all of your stress and anxiety.
Christmas Morning: Notes of cinnamon, pine, and citrus, creates the perfect aroma in your home for the chaos that is Christmas morning.
The Out of Town Guest: If you have a guest, or you are the guest, blend is fresh, relaxing, and perfect for making any space feel like a home for the holidays.
Calm Before the Storm: Let this scent take you away from the rush of last minute gift buying to enjoy the few moments of calm that are left before the storm of the holidays hits.
By the Beach: When you need to escape, lock that bathroom door and take a deep breath! You will instantly feel like you can smell the warm ocean breeze.
While our Holiday Survival Pack won't make your Mother in-law disappear, they will help keep you calm and collected.