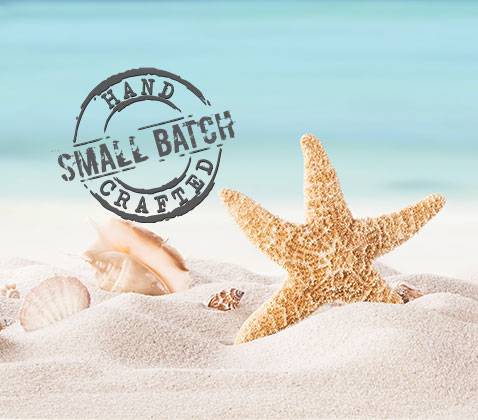 Everything you love about summer, without getting sand in your suit
With warm breezes and bright sunshine, the dog days of summer have arrived. Our Small Batch Summer Collection captures everything you love about this time of year – the feeling of sun kissed skin, the wind blowing through your hair and smiles on the faces of friends and family as you relax and enjoy time away from your day-to-day.
The three scents of the 2018 collection each have unique properties to care for summer skin:
Sage & Seaweed
This unique blend of essential oils makes you feel as though you are strolling the white sand beaches of the Bahamas with a gentle tropical breeze kissing your face. Sage & Seaweed will leave your skin feeling hydrated and healthy, helping to extend that glow all summer long. Aloe Vera juice hydrates while cucumber extract soothes and relieves puffy skin. What truly makes this bar of soap so unique is the blue spirulina powder swirled through. Phycocyanin seaweed helps reduce dark circle, fights inflammation, helps to prevent acne, helps the skin to retain moisture and encourages cell turnover, making it great for anti-aging.
Strawberry & Poppyseed
If you have overindulged in sun and fun, this soap can revitalize dull & tired complexions. This dark red bar gets its colour from Australian Red Reef Clay. Its high iron content will leave you with soft and healthy glowing skin. Organic Beet Root powder is another ingredient enhancing the rich colour of this soap. These skin-enhancing nutrients can benefit those who are prone to acne and oily skin. Strawberry and watermelon extracts help to soothe and protect the skin from environmental toxins, while reducing the appearance of pores.
Lavender & Lemongrass
This blend of essential oils will have your stress drifting away with the setting sun. Lavender and Lemongrass essential oils will leave your skin feeling clean and moisturized. The French pink clay swirl throughout the bar will help to slough off dead skin cells and create an overall refreshed appearance. This bar is ideal for oily or acne-prone skin.
Whatever summer adventures you have planned, be sure to pick up this year's Small Batch Summer Collection. Their scents will keep the summer memories alive long after the leaves start to fall.
Summer Collection is no longer available. Please check back in 2019 for a new Summer Collection